Hair Color Chart:
Applicable hair color:

Black, Dark brown, Light brown, Medium Brown.
NOT applicable hair color:

White, Grey, Red, Light Blonde.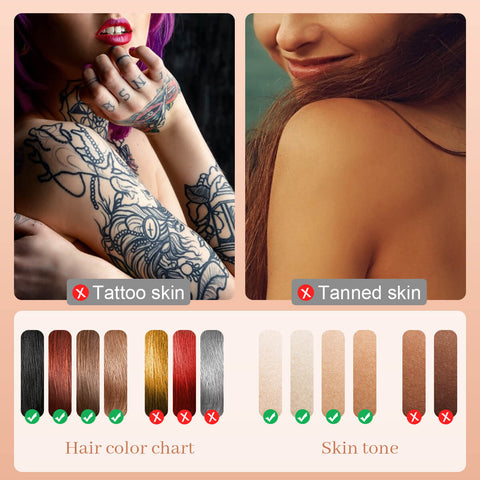 【5 Energy Levels & 2 Flash Modes】

5 Power settings for customized treatment levels for your comfort.It's a very considerate design to take care of different skin types. This hair remover also offers two 2 flash modes, namely the automatic mode and the manual mode. You can freely adjust based on your actual needs.

【Economical & At-Home Hair Removal】

Hair removal has adapted the technology for safe use in the comfort of your own home. The hair remover is gentle, simple and convenient to use at home. Compared to salon hair removal methods, at home you can get a hair removal effect like a beauty salon and save much cost and time.

【Fast & Painless Hair Removal】

IPL hair remover quickly flashes in 0.9s, so you may complete hair removal for the whole body fastest in 10 minutes. 75% of hair grows slowly and reduces after 4 weeks with the hair removal. It takes about 8 weeks to complete hair removal for good and bring you super smooth skin.

【IPL Permanent Hair Removal 】

The Laser hair removal uses advanced IPL technology, can make hair follicle melanin enter the dormancy period and delay the growth of hair fundamentally. This device brings you smooth skin for good! The pulsed light removes hairs from root, no feeling pain and not easy to cause allergy.
Instructions:

Step 1. Shave the surface hair off.




Step 2. Wear goggles to protect your eyes.




Step 3. Plug device into wall socket.




Step 4. Press button on right to power on device.




Step 5. Select an energy level and flash mode.




Step 6. Use the device vertically close to skin.





How long does it take to have an effect?

1) 1-4 Week:2-3 times per week; over 75% of hairs begin to fall off naturally




2) 5-6 Week:2 times per week; new hairs fall off and stop growing.




3) 7-8 Week:1 time per week; hairs become thin and sparse and stop growing.




4) Over 8 Week:1-2 times per week; adjust according to the growth status of hairs.

What's You Get:

✔ 1x Hair Removal Device




✔ 1x Power Charger




✔ 1x Manual Razor


✔ 1x User Manual